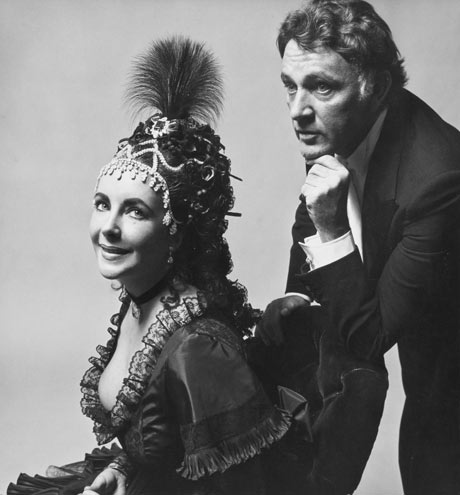 Elizabeth Taylor and Richard Burton, photographed by Cecil Beaton at the Rothschilds' home, Chateau de Ferrières, near Paris in December 1971.
From
The Guardian website
:
Beaton wrote in his diary: "I have always loathed the Burtons for their vulgarity, commonness and crass bad taste, she combining the worst of US and English taste, he as butch and coarse as only a Welshman can be."

He said Taylor had craved compliments during the brief shoot. "She got none. I felt I must be professional and continued, but not without loathing at this monster... Round her neck was a velvet ribbon with the biggest diamond in the world pinned on it.

"On her fat, coarse hands more of the biggest diamonds and emeralds, her head a ridiculous mass of diamond necklaces."

Ungallantly, Beaton described Taylor's hair as "sausage curls", adding: "Alexandre, the hairdresser, had done his worst. And this was the world's biggest draw! In comparison everyone else looked ladylike."

Cecil Beaton was a bitch.
The photograph is expected to make £12,000 when it is auctioned on Tuesday 22nd May 2012 at
Bloomsbury Auctions
.